The term "Tom" refers to the male cat of breeding age. Lexes Dolls Ragdolls currently has 3 breeding male Ragdoll cats. We select our males for their size, temperament, color and pattern attributes, and eye color. We strive for only the best. After retiring them from the breeding program, we offer most for adoption. Ragdolls are special cats for special people.
Lexes Dolls Ragdolls often has retired Ragdoll breeders for adoption to pet homes, for we like to retire them as young as possible to ensure them a happy and longer life with their new owner(s). Please see our retired breeders page or contact us for more information.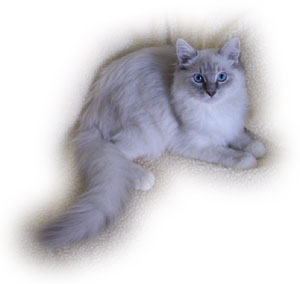 Prince Charming -Born May 2002, he
is a Blue Mitted Lynx Ragdoll. Prince is a big and beautiful Ragdoll that produces the most beautiful Lynx Ragdoll
kittens. See his current litter with Gracie on the available Kittens page. This picture was taken at 4 months old.

Onyx -Born March 2002, he is Seal Mitted Ragdoll and sires many of our litters. Onyx is exceptionally large with very deep Seal marking, and is the sweetest Ragdoll. He is always a proud father,for he loves to play and groom all his kittens. See his current litter with Confetti on the Kittens page. This picture was taken at 1.5 years old.